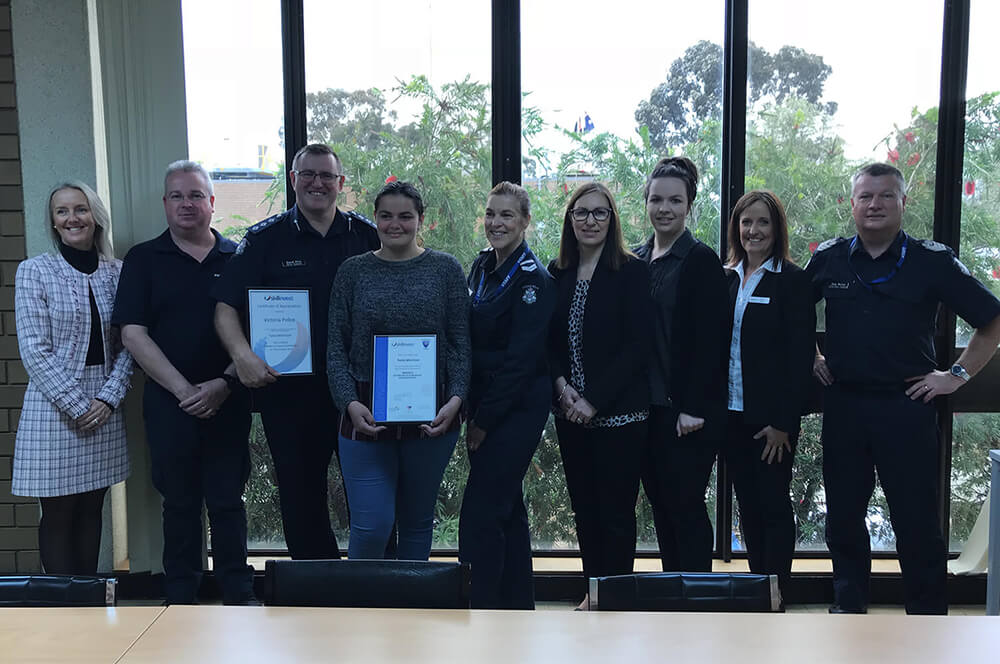 First School-based trainee completion for Horsham Police Station
Published 19 October 2018
Tania Morrison started her Certificate III in Business Administration in February 2017 as a school-based traineeship with The Victoria Police; Tania is based in the Horsham Station and works one day a week while still completing her secondary schooling.
Skillinvest has partnered with the Victorian State Government and Victoria Police to provide opportunities for secondary school students that identify as indigenous. The program is delivered via the school-based traineeship program as a state-wide initiative in Victoria.
Funded by Jobs Victoria after a successful pilot program was ran by Skillinvest, students are studying a certificate III Business Administration traineeship. The program provides students with exposure to an office-based environment in an operating police station to be completed over two years.
Tania is the first student to complete the program in the Wimmera and the first for the Horsham Police Station.
Dimboola Secondary College Principal Anne Gawith first presented Tania with the opportunity to complete the traineeship when she was 16. Tania was that excited she said yes on the spot as she has loved the police force since she was 6 years old.
"I never thought I'd be able to get to an area like this and with the help of my teachers and my friends and family I can do this, it sets me a standard of what I want to be".  Said Tania
Tania is due to complete Year 12 this week and attended her last day at the station on Thursday. A morning tea was held in her honour where Tania was presented with her certificate of completion.  Tania thanked the Horsham Police staff for all their help and support over the last 2 years and Skillinvest Business Trainer Chris Gray for her support and encouragement during her training.
The Horsham Police Station is looking forward to a new trainee commencing next year and applications are currently being sought. Interested Indigenous students can find out more and apply at https://www.skillinvest.com.au/jobs/business-traineeship-victoria-police
The program to date has seen 44 Indigenous students commence in Police Stations across the state. Seven students have successfully graduated, 10 students have not continued for various reasons and the remaining 27 students are well on their way to completing their traineeships.