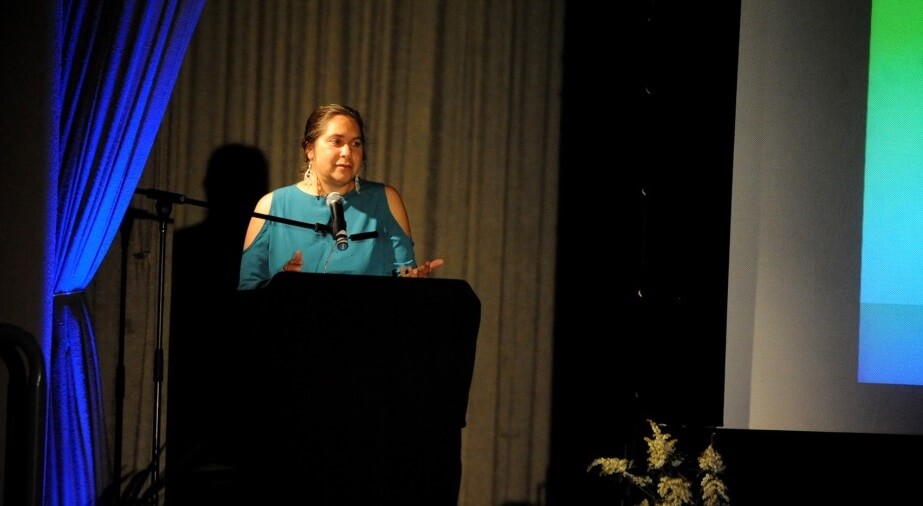 Writer and director Tracey Rigney shares her life experiences with apprentices and trainees
Published 21 October 2015
Guest speaker Tracey Rigney addressing attendees at the Skillinvest Regional Awards Night. Photo courtesy of The Wimmera Mail-Times.
Guest speaker Tracey Rigney's message to apprentices and trainees at the Skillinvest Regional Awards Night (9th October, 2015) was for young people to overcome fears and doubts by embracing and pursuing opportunities. Tracey's life journey, as a playwright, filmmaker and director, has taken her from Dimboola, from the lands of her mother's ancestors, the Wotjobaluk people, to the international arts world. Tracey's inspirational speech recounted her experiences of schooling in Dimboola, of representing Australia on an athletics tour of Canada and the United States and living abroad as an exchange student in Germany and Austria. Tracey explained the way in which her path changed multiple times when at university, as she altered courses in an effort to find the course and place that best suited her interests. Finding this passion and a community of like-minded individuals, Tracey completed a Creative Arts Degree at the University of Melbourne, majoring in Creative Writing.
Success soon followed; Tracey's first play – Belonging – staged at the Playbox (now Malthouse) Theatre Company in Melbourne when she was just 21. Tracey has also written and directed films, including Man Real, Abalone and Endangered, which have screened on Australian TV, toured nationally and internationally, and received a number of accolades.  Her first film premiered at the Sydney Opera House when she was 25. Tracey now lives in Dimboola and works with Wimmera Uniting Care and Goolum Goolum Aboriginal Cooperative with Aboriginal and Torres Strait Islander children and families in the areas of education, health and wellbeing. Tracey still actively pursues her interests in the creative sector and is currently writing for a TV series in development.
Skillinvest would like to thank Tracey for her inspirational words to attendees at the Skillinvest Regional Awards Night.